Escape Eagles Motorcycle Rentals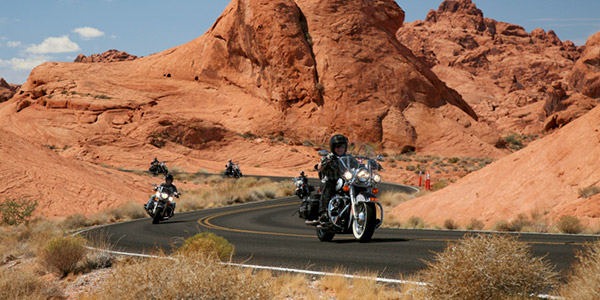 If you've never experienced the freedom of the open road from atop a motorcycle, Escape Eagles wants to take you on the adventure of a lifetime! Mount one of our beautiful, powerful Harley-Davidson or Honda Goldwing bikes today and take to the road, whether you're heading to a scenic destination or are just taking in the sun and sights of Las Vegas.
Motorcycle Rentals in Las Vegas
Have you ever pictured yourself screaming down the highway on a motorcycle, wind whipping at your face with the sun beating down on you, feeling free and inspired as you take in the open world around you? Have you always wanted to visit some of the nation's greatest parks on the back of a motorcycle, being able to see exactly what makes these locations so beautiful and mesmerizing? Escape Eagles is here to make these dreams a reality—we're your number one source for a motorcycle rental in Las Vegas and thanks to our unique business model and tremendous knowledge of the local tourism industry, we're prepared to take you on an adventure you'll never forget. From the historic appeal of California's Highway No. 1, to the gorgeous sights of the Grand Canyon, Death Valley and Sequoia, the world is open to you.
What makes Escape Eagles so unique is a combination of our bikes, our knowledge of the region's tourism hotspots and our ability to tailor your experience to be unique and unforgettable. It starts by selecting one of our well-kept, comfortable, powerful Harley-Davidson or Honda Goldwing motorcycles. Our selection is vast and you're sure to find a bike that fits your tastes. Then it's time to pick your tour—whether it is for one day or multiple days—to see the sights and take in the atmosphere that you've been waiting for. Escape Eagles will make sure you have the time of your life. Take a look at a few other reasons so many people come to us for motorcycle rentals in Las Vegas:
Our Harley-Davidson or Honda Goldwing motorcycles allow you to travel around the American Southwest in style!
Nearby destinations include National Parks like Zion, Bryce, Grand Canyon, Death Valley, Sequoia, Joshua Tree, Yosemite, Yellow Stone and Monument Valley.
We're happy to tailor your experience around your vacation plans and desires.
All of our motorcycles are kept in the finest working condition.
Our prices are affordable and competitive.