OFallon Traffic Ticket Lawyer
OFallon Traffic Ticket Lawyer.  You or a family member have been pulled over in the City of OFallon, MO by the police and have been given one or more traffic tickets. Whether the traffic tickets are for, but not limited to:
Speeding
Speeding in a Construction Zone
Speeding in a Accident Reduction Zone
Speeding in a School Zone
Excessive Acceleration
Drag Racing
Failure to Signal
Failure to Drive in a Single Lane
Improper Lane Use
Failure to Yield
Following too Close
Illegal Turn
Improper Passing
No Motorcycle License
Stop Sign Violations
Electric Signal Violation
Driving While Intoxicated – DWI
Driving Under the Influence – DUI
Driving With Excessive Blood Content – BAC
Driving While Suspended – DWS
Driving While Revoked – DWR 
Driving Without Insurance – No Proof of Insurance
Careless, Reckless or Imprudent Driving – C & I
Leaving the Scene of an Accident
All Moving Violations – Point Violation Tickets
The consequences of just going to court without consulting with an OFallon Traffic Ticket Lawyer and pleading guilty can be serious. They may include a criminal conviction or traffic conviction on your record, fines, loss of your driver's license, or even jail time.
Pleading guilty to a DWI/DUI, or some other moving traffic offense, will not only mean a fine but application of the Missouri Department of Revenue point system. This could lead to eventual suspension of your license and extremely high insurance rates for several years.
Before pleading guilty to a DWI Charge, or any kind of Criminal charge, or any kind of Speeding or other kind of traffic ticket, it is often worthwhile to discuss the situation with an experienced OFallon Traffic Ticket Lawyer.
Call me, Douglas Richards, an experienced OFallon Traffic Ticket Lawyer, for a Free Consultation. You may permanently damage your case by talking with police and prosecutors before talking with an OFallon Traffic Ticket Lawyer.
I have represented clients facing municipal court traffic tickets for over 30 years.  The Prosecuting Attorney must prove municipal court traffic ticket cases, like all other criminal cases, beyond a reasonable doubt. By demonstrating even before trial that the Prosecuting Attorney has no case,  or a very weak case, can serve as the basis to arrange for a plea bargain, a reduced charge, or even complete dismissal of the charges.
I will make sure your rights and privileges are protected to the greatest extent possible. An arrest can be a devastating experience, and the consequences can follow you for the rest of your life. Because the criminal and traffic court system is complex, you benefit from the counsel of a skilled and knowledgeable OFallon Traffic Ticket Lawyer even in the municipal court.  You need someone on your side who understands the law and how the municipal courts work.
I never charge a fee for an initial consultation because I understand that it is an important step in the process of finding the right OFallon Traffic Ticket Attorney for you.
Call me at:
DOUGLAS RICHARDS
ATTORNEY AT LAW
9666 Olive Blvd, Ste. 365
St. Louis, MO 63132
314-517-5756
or
636-256-7300
I look forward to talking to you so that we can discuss the facts of your case, what legal defenses and/or tactics are available to you, and different possible outcomes that will be the best result for you!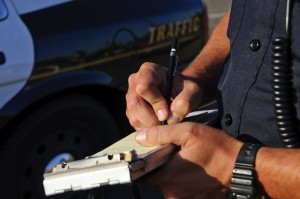 How does Missouri's point system work?
If you accumulate a total of 4 points in 12 months, the Department of Revenue will send you a point accumulation advisory letter.
If you accumulate a total of 8 or more points in 18 months, the Department of Revenue will suspend your driving privilege.
1st suspension – 30 days
2nd suspension – 60 days
3rd or more suspensions – 90 days
The Department of Revenue will revoke your driving privilege for one year if you accumulate:
12 or more points in 12 months
18 or more points in 24 months
24 or more points in 36 months
When your driving privilege is reinstated following a Point Suspension or Revocation, the Department of Revenue reduces your total points to 4.
Every year you drive without getting new points on your record, the points will be reduced.
1 year — total remaining points reduced by one-third
2 years — remaining points reduced by one-half
3 years — points reduced to zero
Although your points may be reduced to zero, certain types of convictions must remain listed permanently on your Missouri driver record.
How do I find out how many points would go on my record if I do not hire a lawyer to help me?
How to pay your reinstatement fee to the DOR
How many points do I have on my record?
Please call (573) 526-2407 to find out how many points you have on your record or send an e-mail to dlbmail@dor.mo.gov.
When can tickets be removed from my record?
Traffic Tickets cannot be removed from your Missouri driver record until the conviction is at least three years old, but other conditions may apply.
If the traffic ticket(s) led to the suspension or revocation of your Missouri driving privilege, then five years must pass from the suspension or revocation reinstatement date before the traffic ticket(s) may be purged.
Traffic Tickets for Failure to Maintain Insurance cannot be removed from your Missouri driver record.
How can I request an old ticket be removed from my record?
You may submit a request (including your full name and Missouri driver license number or social security number) to have old tickets purged from your record using one of the following methods:
Send an e-mail request to dlbmail@dor.mo.gov.
Call (573) 526-2407 during normal business hours to request the purge.
Send a written request to our central office:


Missouri Department of Revenue
301 West High Street – Room 470
PO Box 200
Jefferson City, MO, 65105-0200
NOTE: A ticket is not eligible to be removed if it "supports" an existing administrative suspension/revocation/denial action against the driver, or if it otherwise must remain on the record in accordance with state law.
OTHER LINKS:
Missouri Department of Revenue – Tickets and Points Section
Missouri Department of Revenue – How to I Pay My Reinstatement Fee Section
Missouri Department of Revenue – What is a SR-22 Insurance Filing Section
Missouri Drivers Guide -Full Edition
Official State of Missouri Web Page
HOME  –  PRACTICE AREAS  –  DWI DEFENSE ATTORNEY  –  MISSOURI DUI DEFENSE
CRIMINAL DEFENSE LAWYER  –  CRIMINAL NON SUPPORT DEFENSE ATTORNEY
TRAFFIC TICKET DEFENSE ATTORNEY  –  ATTORNEY PROFILE  –  CONTACT ME